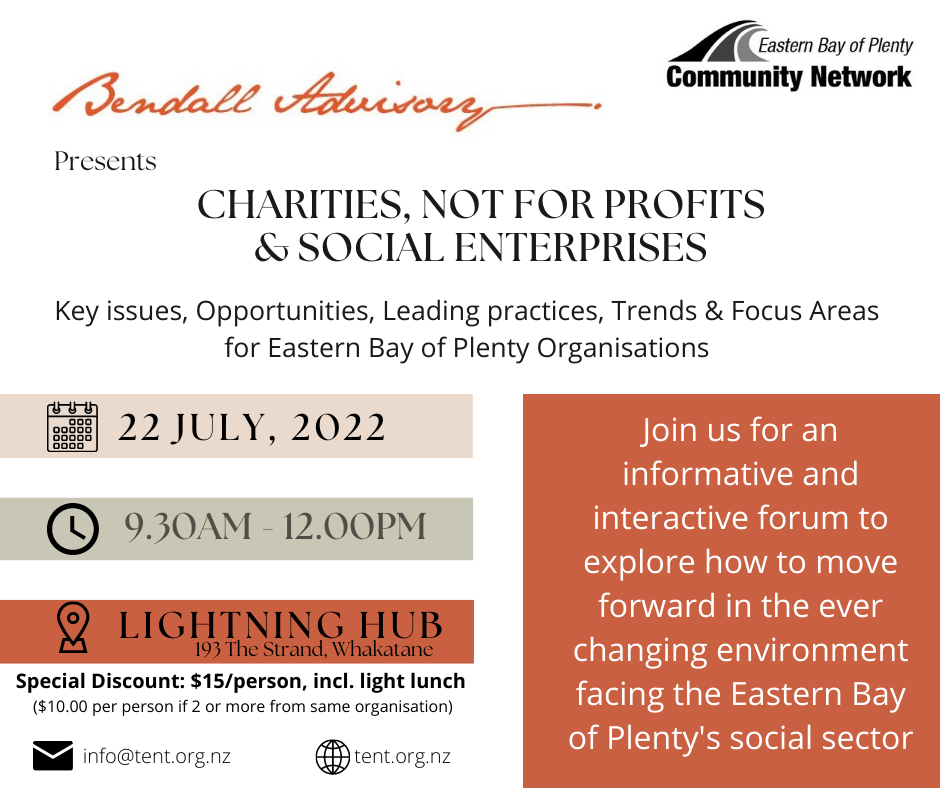 TIMING: 22 July, 2022 9.30am – 12pm (light lunch provided)
WHERE: Lightning Hub, 193 The Strand, Whakatāne
Contact us at info@tent.org.nz
COST (PER PERSON): $ 15 + GST including lunch ($10+GST for 2 or more from same organisation)
NOTE: A copy of all presentation slides will be emailed on the day, and a summary of key discussion points arising will be emailed to attendees within one week after the workshop.
Payable to:
The Events Network Trust
Acct 12-3253-0079902-00
Ref: Workshop July
ATTENTION Eastern Bay of Plenty Not For Profit (NFP) Managers, Advisors, Fundraisers & Trustees.
Join us for an informative and interactive forum, run by Bendall Advisory and sponsored by TENT / The E Network Trust, which will explore key issues facing Not for Profits as they look to survive a few tough years and propel themselves in fulfilling their purpose.
The timing of this forum could not be better given the pressure on sector participants to find solutions to problems with sponsorship, fundraising, collaboration, resourcing, technology adoption, outdated practices and governance models that may no longer be fit for purpose.
With all the uncertainties and disruptions that the Covid pandemic has caused over the past two years, it is also a good time to reflect, have dialogue with key stakeholders, re-energise and build a solid plan. This forum will help you do just that!
And includes coverage of:
Forces impacting the sector
Major challenges, issues & opportunities
Drivers of Collaboration & Innovation
Community & Business enterprises
Key trends and focus areas
The Future
REGISTRATIONS CLOSE 18th JULY