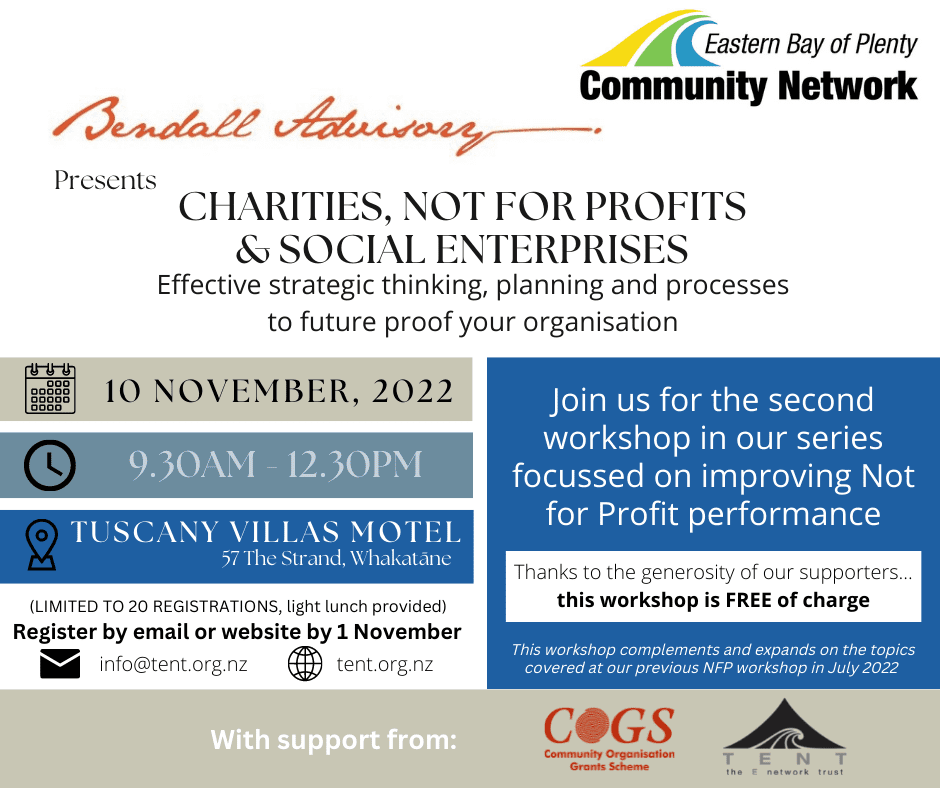 Join us for an informative and interactive workshop, presented and facilitated by Jeremy Bendall (refer profile below) and sponsored by TENT / The E Network Trust. This workshop will explore key issues facing Not for Profit organisations and the capability and processes needed to propel themselves forward in order that they fulfil their purpose.
The timing of this forum could not be better given the pressure on sector participants to address issues and problems with strategic planning, regulatory changes, financial risk exposures, fundraising & sponsorship challenges, collaboration, resourcing, technology adoption, and outdated governance structures that are no longer be fit for purpose.
It's time to put all the uncertainties and disruptions that Covid has caused and move forward with a positive mindset targeted at overcoming barriers to success and achieving results.
And includes coverage of:
Major forces impacting the sector
Governance & leadership essentials
Good strategic thinking & planning
Effective governance structures
Funding & sponsorship success factors
Managing financial risks
The Future
TIMING: 10th November, 2022 9.30am – 12.30pm
WHERE: Tuscany Villas Motel, 57 The Strand, Whakatāne
COST (per person): FREE
REGISTER BY: 1st November (limited to 20 people)
CONTACT US: info@tent.org.nz